Avevo gia provato (e ben due volte!) una ricetta per la focaccia trovata online, ma il risultato non mi aveva soddisfatto al 100%.
La prima volta era venuta umidiccia, la seconda invece molto secca.. in realtà mi era anche piaciuta ma sembrava più che altro una schiacciatina!

La focaccia mi piace quando è croccantina fuori ma morbidosa dentro... così ho pensato: e se sfruttassi la ricetta del pane senza impasto?

Ho usato gli stessi ingredienti dei filoncini, modificando leggermente le dosi e aggiungendo una salamoia di
olio e sale. Posso dire che il tentativo è riuscitissimo! La focaccia è venuta davvero perfetta, morbida e croccante, insomma... che soddisfazione!



La prima volta ho fatto una focaccia semplice, con giusto una spolveratina di origano, dato che è venuta bene la volta successiva mi sono sbizzarrita e l'ho fatta con olive e rosmarino e con patate.





Fotoricetta dopo il salto!


No-knead Focaccia.

Photo-recipe after the jump!
Scroll to the bottom of the page for the translated recipe.

Ingredienti
:
- 1 dado lievito di birra
- 1 cucchiaino di miele
- 200 ml di acqua tiepida
- 250 gr di farina
- 2 cucchiaini di sale
Per la salamoia:
- 2 cucchiai d'olio
- 1 cucchiaio d'acqua
- Sale e origano q.b.

Calorie totali
(ricetta base):1123

Preparazione:
Preparare l'impasto come
per fare il pane
: sciogliere il
lievito
con il
miele
e l'
acqua
, unirlo alla
farina
e al
sale
in una ciotola e impastare velocemente con una forchetta. Lasciare
lievitare
coperto per circa un
paio d'ore
.Nel frattempo,
ungere una teglia
rettangolare con poco olio; quando l'impasto è lievitato, trasferirlo nella teglia.

Aggiornamento:
dopo aver preparato questa focaccia svariate volte, mi sono resa conto che è meglio mescolare insieme gli ingredienti e
trasferirli subito nella teglia
ricoperta con carta da forno, lasciando quindi
lievitare l'impasto direttamente nella teglia:
facendo così la focaccia viene più
alta e soffice
!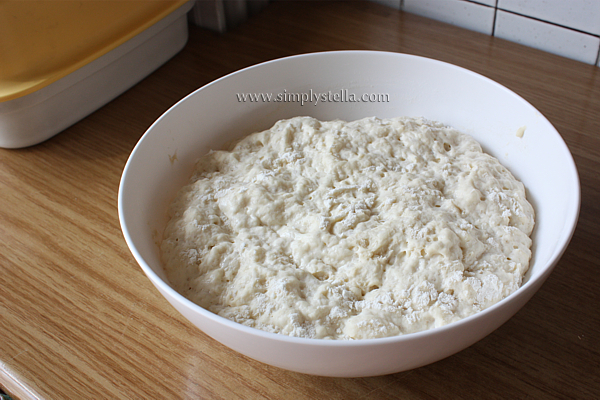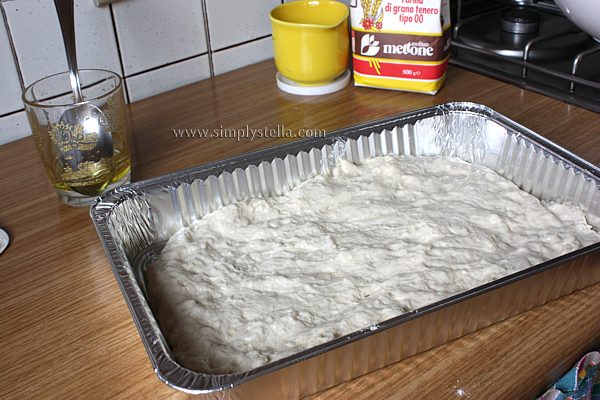 Con le dita inumidite, fare tanti
buchetti
sulla superficie della focaccia, dopodiché irrorarla con l'
emulsione di acqua e olio
e cospargere di
sale
.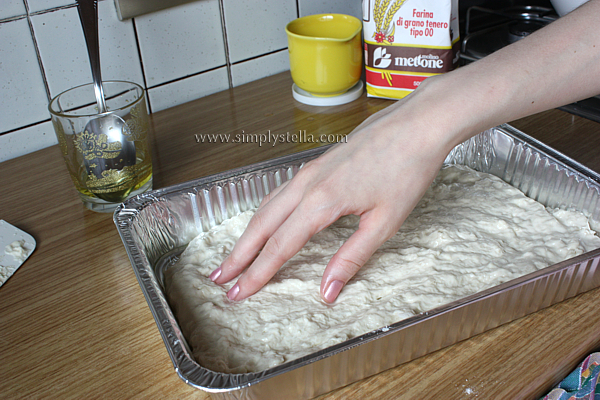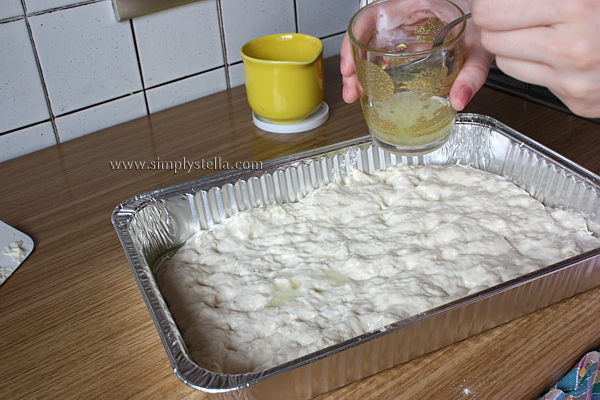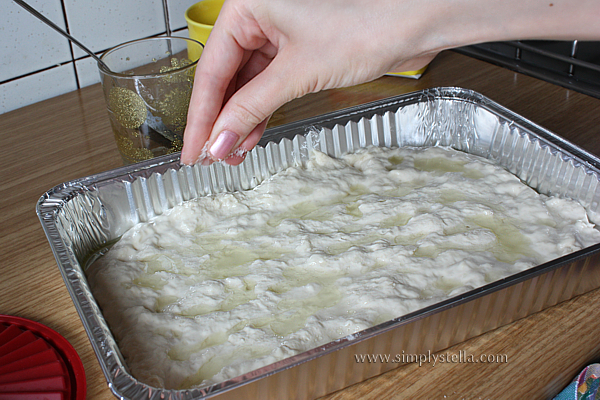 Guarnire, a scelta, con
rosmarino
,
olive
,
origano
o
patate
(precedentemente lessate).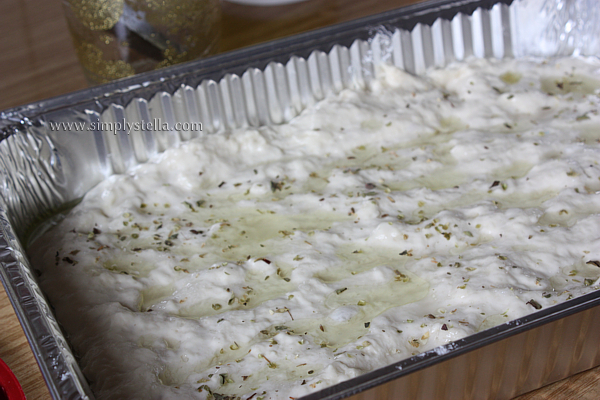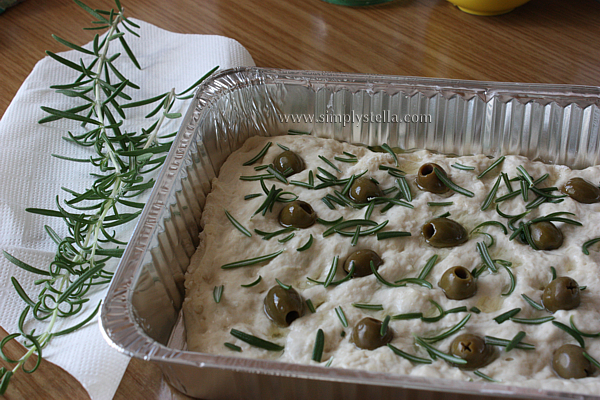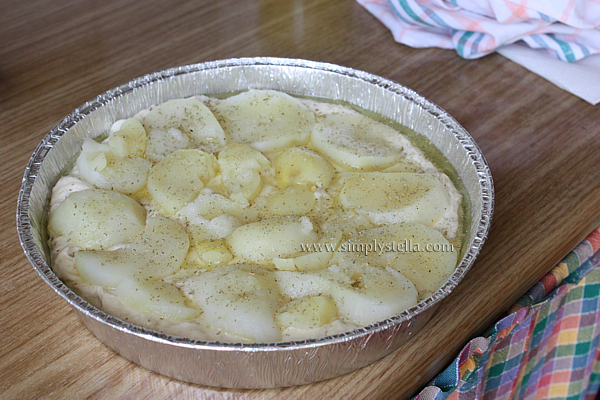 Infornare a
240°
per
30 minuti
, fino a doratura.

Aggiornamento:
Ho notato che tenendo il forno a questa temperatura,dopo 20 minuti la focaccia è poco cotta e dopo 25 comincia a bruciacchiare..
Quindi è meglio infornarla a
240° per i primi 10 minuti
, poi abbassare il forno a
180° per i restanti 10/15
minuti. Quando la focaccia è pronta quando comincia ad essere appena appena dorata!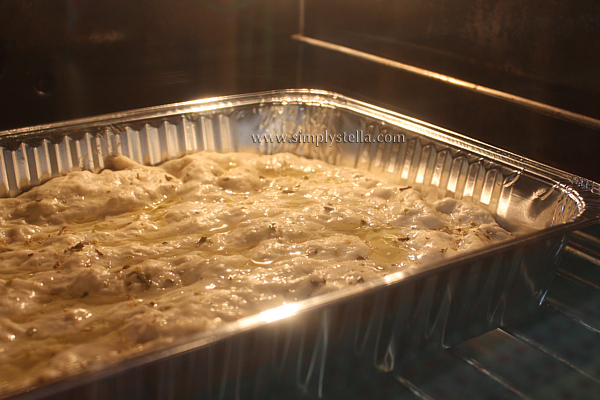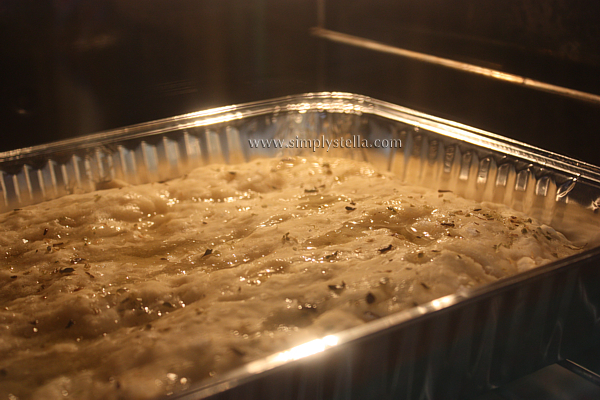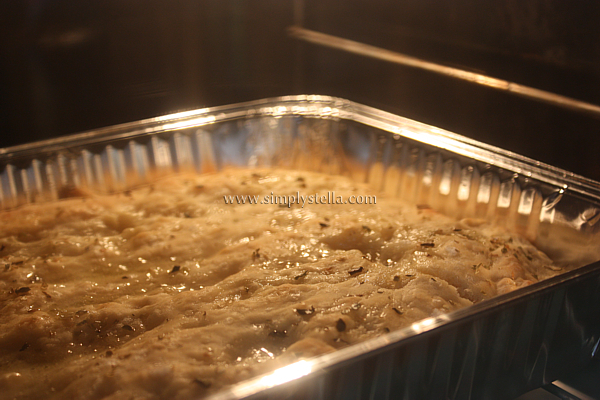 Lasciare raffreddare la focaccia per circa un'oretta, poi servire tagliata a quadrotti.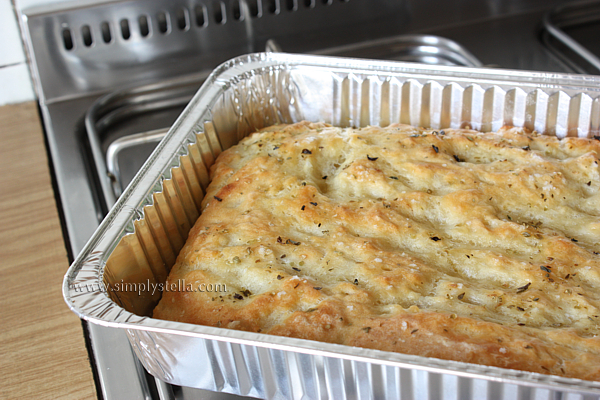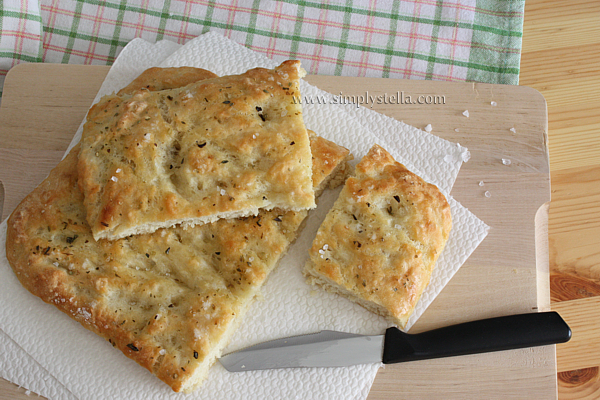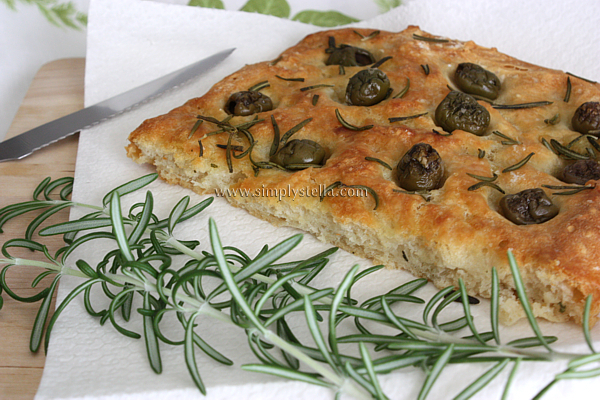 Ingredients: 1 cake of yeast, 1 teaspoon honey, 200 ml warm water, 250 gr flour, 2 teaspoons salt, 2 tablespoons olive oil, 1 tablespoon water, oregan and salt to taste. Calories: 1123
Directions: Prepare the dough following the same steps as the no-knead bread recipe. Let it rise and, in the meanwhile, grease a baking tin with a little oil. Move the dough into the baking tin. Press holes in the dough with wet fingers. Mix one tablespoon of water with 2 tablespoons of oil, and pour it on the dough. Sprinkle the whole surface with salt and eventually add garnish of choice. Bake at 240°(approx. 465F) for half an hour. Let the focaccia cool off for about an hour, then cut into squares and serve. For a more detailed translation, use the Translator in the side bar