Non avevo mai preparato la pasta frolla! Mi spaventava perchè l'impasto va fatto velocemente, e io non so lavorare di fretta..
Poi però preparando gli Shortbread Brownies ho preso un po' confidenza, e alla fine mi sono convinta a fare un tentativo!

Ho letto svariate ricette sulla preparazione della frolla; erano tutte diverse in quanto a ingredienti e dosi, l'unica cosa su cui concordavano tutte è che l'impasto deve rimanere sempre bello freddo: quindi, logicamente, io ho deciso di cimentarmici in quella che si è rivelata essere la giornata più calda dell'estate 2012
Fortunatamente la temperatura non ha compromesso la riuscita della frolla: sapore e consistenza erano ottimi... peccato non poter dire altrettanto dell'aspetto!



Ho fatto la crostata senza griglia superiore per contenere le calorie, ma poi mi avanzava un pezzetto di pasta così ho pensato di aggiungere qualche decorazione.. Non riesco ancora a capacitarmi di quanto siano brutte, insomma con tutto l'esercizio che faccio col Fimo dovrei essere capace di fare un fiorellino di pasta frolla, no? Alla fine ho modificato le dosi nella ricetta, così la prossima volta verrà meno pasta



Fotoricetta dopo il salto!


Apricot crostata.

Photo-recipe after the jump!
Scroll to the bottom of the page for the translated recipe.

Ingredienti
per 8 porzioni:
- 85 gr di burro
- 170 gr di farina
- 55 gr di zucchero
- 1 uovo
- 300 gr marmellata (io ho usato quella di albicocche)

Calorie:
ca. 280 a porzione

Preparazione:
Tagliare il
burro
, freddo di frigorifero, a pezzetti, metterlo nel mixer con la
farina
ed impastare fino ad ottenere un composto sabbioso.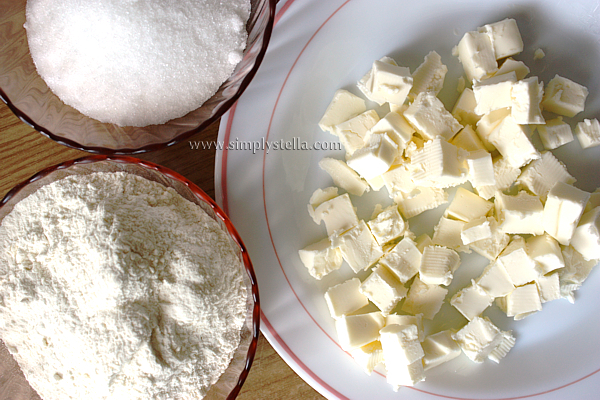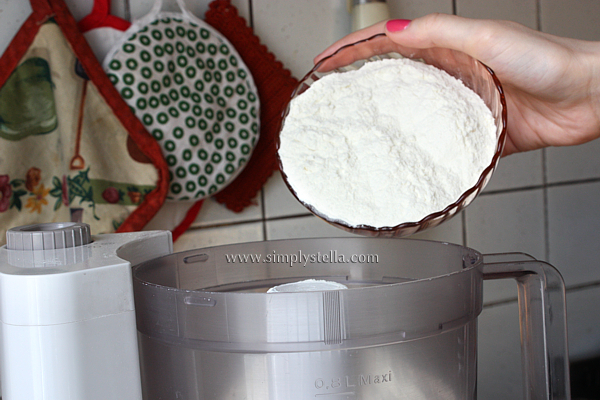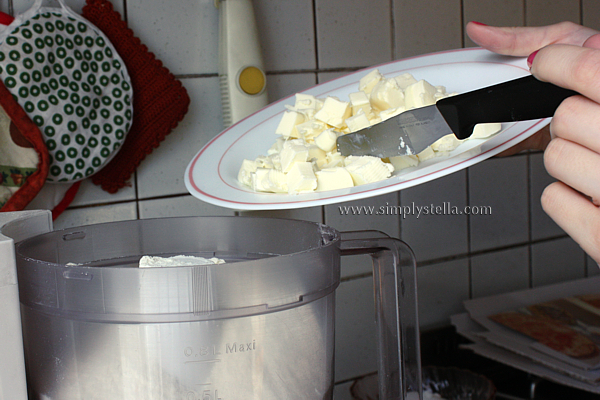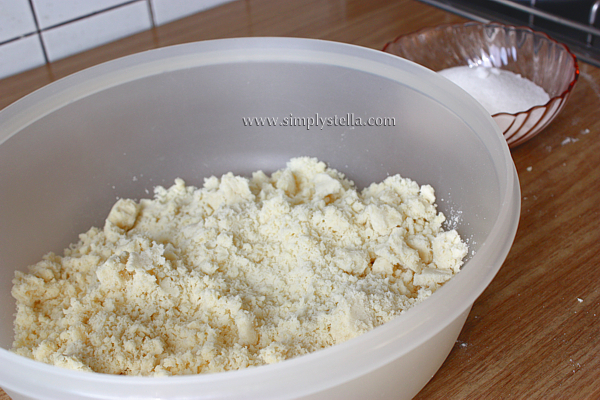 Unire lo
zucchero
e l'
uovo
, impastando con la punta delle dita fino ad ottenere un composto omogeneo e liscio.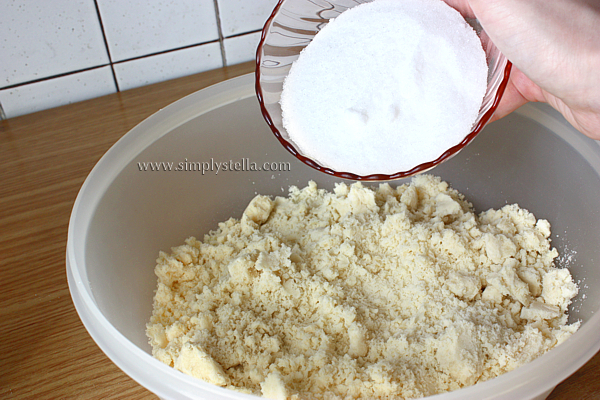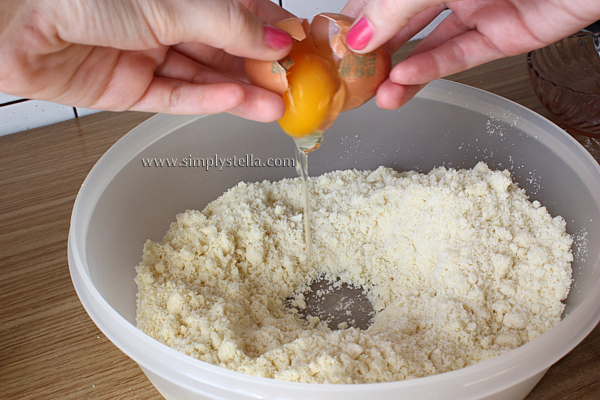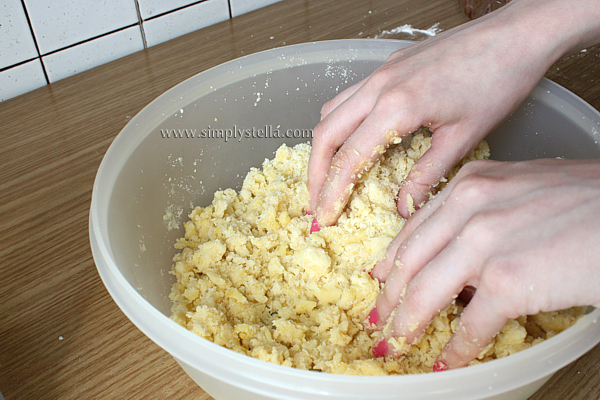 Formare un panetto, avvolgerlo nella pellicola da cucina e riporre in
frigorifero per circa mezzora
.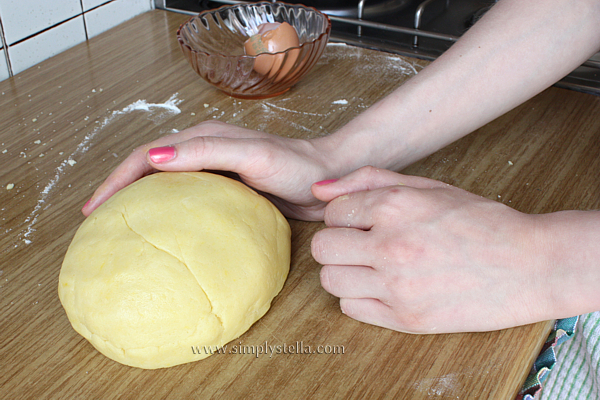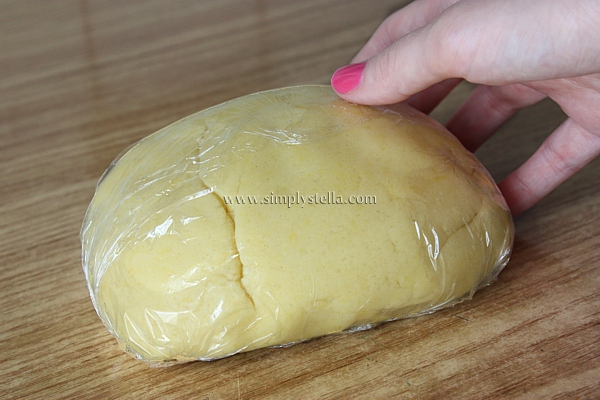 Passato questo tempo, stendere la pasta in un cerchio abbastanza grande da ricoprire lo stampo.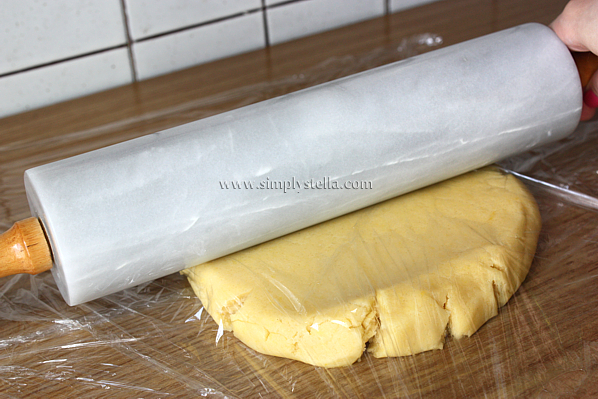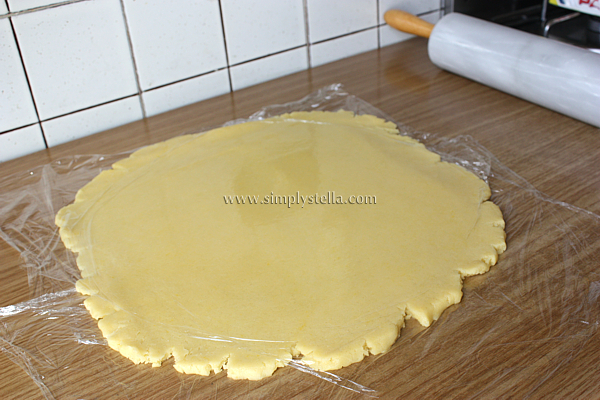 Capovolgere la pasta nello stampo, rifinire i bordi ed infine cospargere con la
marmellata
.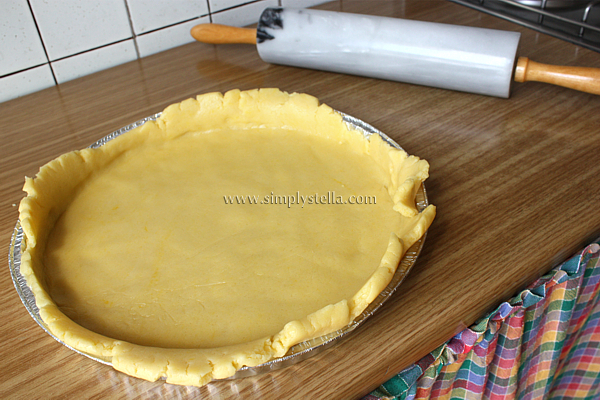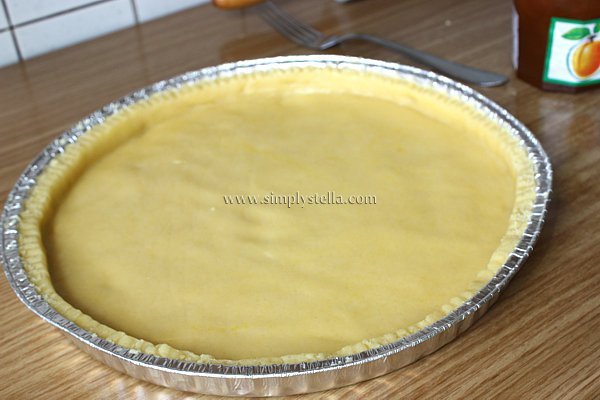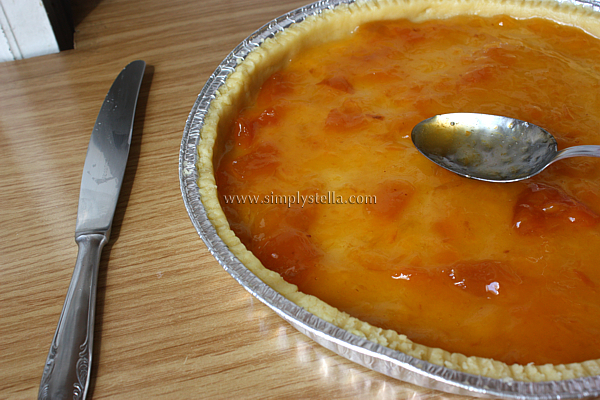 Mettere in
frigorifero
per un'altra
mezzora
, dopodiché infornare a
170° per 40-50 minuti
. Controllare ogni dieci minuti per vedere se si formano bolle d'aria, nel caso bucarle con uno stecchino.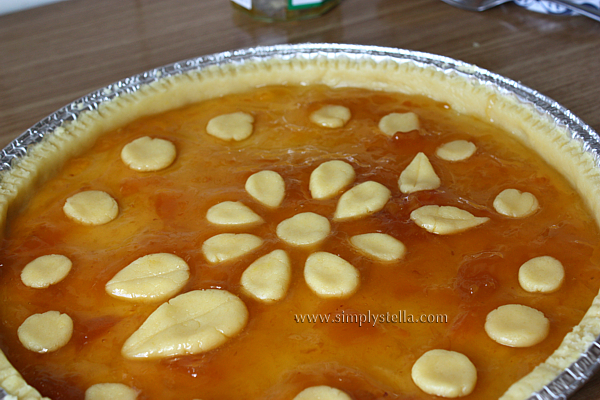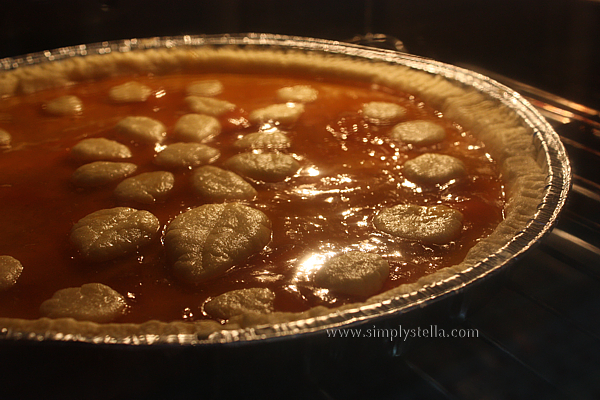 Lasciare raffreddare e servire!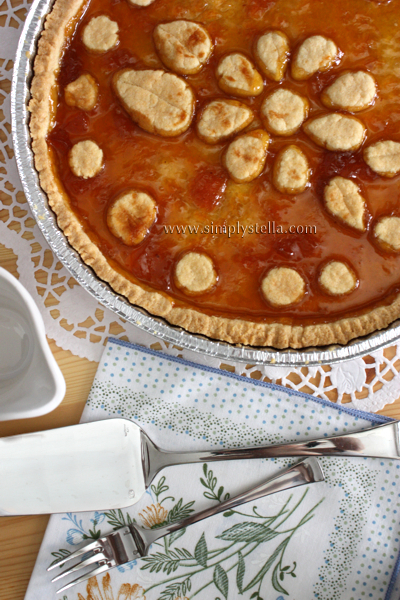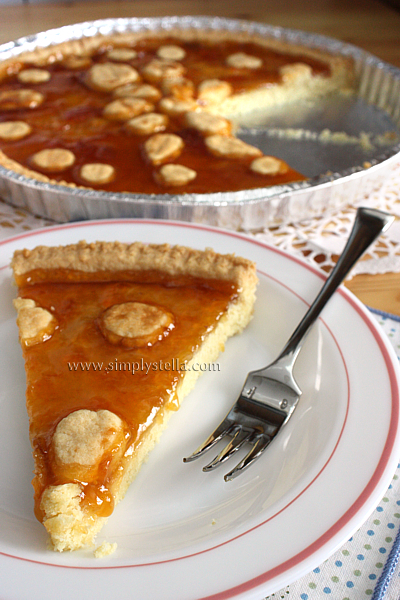 Ingredients (8 servings): 85 gr butter, 170 gr flour, 55 gr sugar, 1 egg, 300 gr apricot jam.
Calories per serving: 280
Directions: Cut the butter (it has to be cold, straight out of the fridge) in small pieces, then mix it to the flour with a food processor to get a gritty mixture. Add the sugar and egg, and knead briefly with the tip of your fingers until you get a smooth dough. Wrap it in plastic and put in the fridge for half an hour. Roll out the dough and put it into your mould. Even out the edges and spread the jam all over the surface. Put back in the fridge for half an hour, then bake at 170° (approx. 340 F) for about 40-50 minutes. For a more detailed translation, use the Translator in the side bar