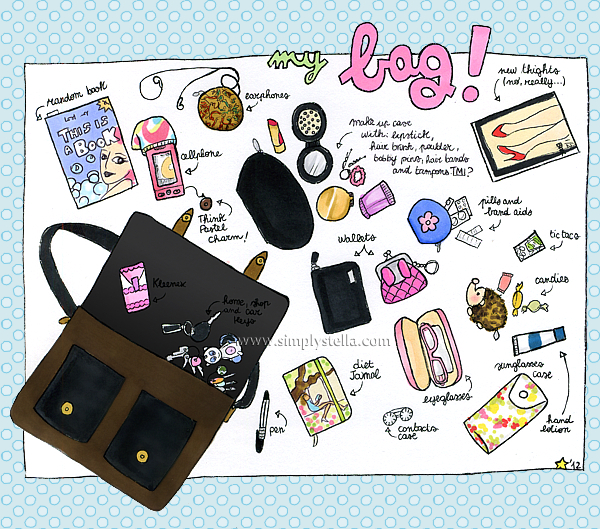 Cliccare sulle immagini per ingrandirle / Click on the pictures to see them full size
Traduzione perchè ho una calligrafia illeggibile: pacchetto di Kleenex, chiavi di casa/negozio/macchina, penna, diario della dieta,
cosini
delle lenti a contatto, occhiali da vista, custodia degli occhiali da sole, crema per le mani, astuccio con caramelle, tic tac (caso mai non si fosse capito, ho sempre fame..), portafogli e portamonete, astuccio con medicine e cerotti, astuccio del trucco con rossetto, cipria, spazzola, elastici e, ehm, assorbenti

, collant nuovi di scorta (no, sul serio - odio avere i collant smagliati), cellulare, auricolari e libro random.
Insomma, giusto il minimo indispensabile..

Colorato con pennarelli Spectrum Noir (ho gia detto che li adoro?

)
disponibili come sempre da Think Pastel
!

Use the Translator in the side bar to read this site in your language

Outline: