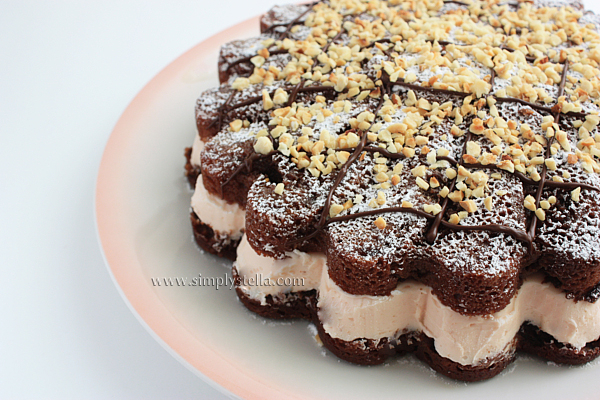 Avevo salvato questa
crema al burro e latte condensato
tra le ricette da provare un'eternità fa: mi sembrava semplicissima da fare e soprattuto deliziosa...
Dato che si tratta di una crema molto poco dietetica e tantomeno salutare (
come tutte le cose migliori nella vita, d'altra parte

), quando finalmente mi sono decisa a sperimentarla ho voluto abbinarla a una base semplice, light e sana, così... tanto per bilanciare un po'

La scelta è ricaduta su questa buonissima
torta al cacao senza uova
, gia provata in precedenza. Ho ridimensionato le dosi e omesso l'olio (sostituito con il latte, rimane comunque morbidissima!) per renderla ancora più leggera.
Il risultato è stato ottimo (
d'altra parte non ci si aspetta niente di meno da una torta al cacao con crema di burro, no?

), l'unica pecca è che la farcitura era davvero troppa, ma al tempo stesso non sufficente a ricoprire la torta. La prossima volta penso di dimezzare le dosi della crema.. oppure farò due torte!


Ricetta dopo il salto!
/

Eggless cocoa cake with butter filling.

Recipe after the jump!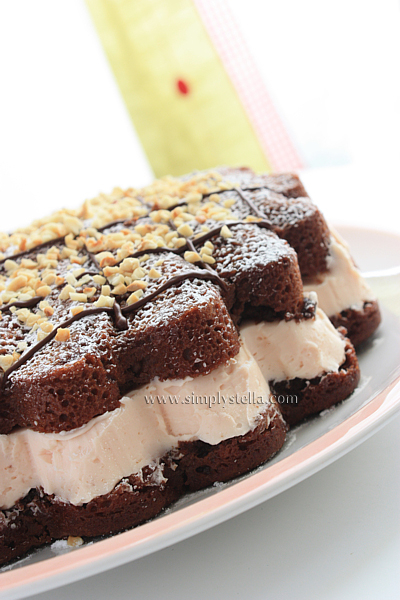 Scroll to the bottom of the page for the translated recipe.

Ingredienti
per 12 porzioni:
- 150gr farina 00
- 50gr di fecola di patate
- 180gr di zucchero di canna
- 75gr cacao
- 1 bustina (16gr) lievito per dolci
- 400ml (400gr) di latte scremato
Per la farcitura:
- 250gr di burro freddo tagliato in pezzi piccolissimi
- 397gr (1 lattina) latte condensato

Calorie:
ca. 410 a porzione

Preparazione:
Base:
Unire in una ciotola tutti gli ingredienti secchi:
farina, fecola, zucchero, cacao
e
lievito
.
Aggiungere il
latte
, mescolando fino ad ottenere un composto fluido ed omogeneo.
Versare l'impasto in uno stampo da 24-22 cm.
Infornare a
160°
per circa
50 minuti
(facendo la solita prova stecchino, questo dovrà uscire umido, ma non bagnato).
Sfornare e lasciare raffreddare la torta completamente prima di estrarla dallo stampo.
Farcitura:
Montare il
burro
freddo di frigo con le fruste elettriche alla massima velocità per almeno 10 minuti, fino a quando non diventa bianco e spumoso.
Unire il
latte condensato
, a poco a poco, continuando a sbattere ad alta velocità per altri 10 minuti.
Tagliare in due la torta e farcirla, poi ricomporla e conservarla in frigorifero.
Toglierla dal frigo una ventina di minuti prima di servirla in modo che la crema si ammorbidisca un pochino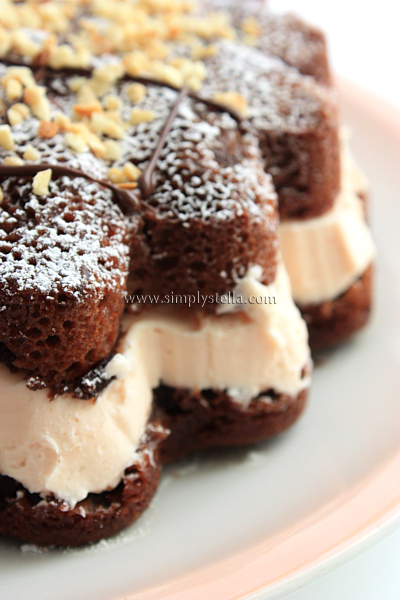 Ingredients: 150gr all-purpose flour, 50gr potato starch, 180gr brown sugar, 75gr cocoa powder, 16gr baking powder, 400ml (400gr) skim milk, 250gr cold unsalted butter, 397gr (1 can) condensed milk. Calories (per serving): 410
Directions:In a bowl, sift all the dry ingredients (flour, potato starch, sugar, cocoa and baking powder). Gradually add the milk until you reach a thin, even mixture. Pour the batter in a 22-24cm cake mold and bake at 160°(320 F) for approx. 50 minutes (the cake has to be dry on the outside but moist on the inside). Let the cake cool completely before unmolding it. To prepare the filling, beat the butter with electric whisks at maximum speed for at least 10 minutes, until the butter looks fluffy and light. Add the condensed milk and keep beating for 10 more minutes. Slice the cake and fill it with the butter filling, then store in the fridge untill 20 minutes before serving. For a more detailed translation, use the Translator in the side bar