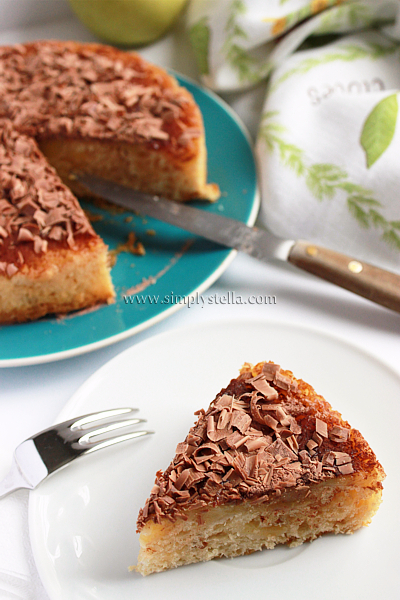 La torta di mele è uno di quei grandi classici con cui non si può mai sbagliare, piace un po' a tutti.. d'altra parte è proprio buona!

Avevo gia sperimentato
questa ricetta "classica"
, che mi piace molto.
Però quando ho trovato
questa variante "salutare"
, senza uova nè burro, ho voluto testarla e devo dire che è davvero molto soddisfacente

L'unico difetto che le ho trovato è che le mele si "sentivano poco".. forse perchè sono tutte in superfice, non sono amalgamate all'impasto. La prossima volta proverò a mescolarne una parte nella pastella..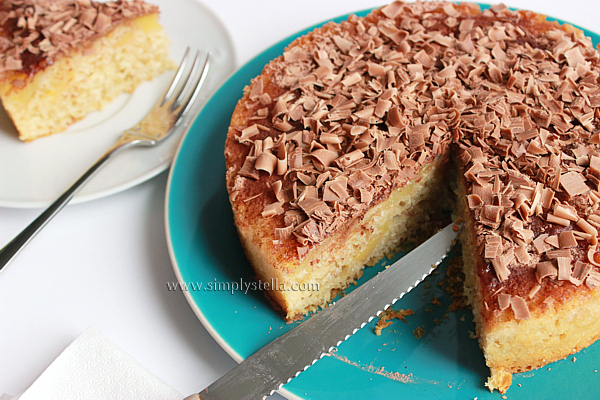 Fotoricetta dopo il salto!
/

Eggless apple upside down cake.

Photo-recipe after the jump!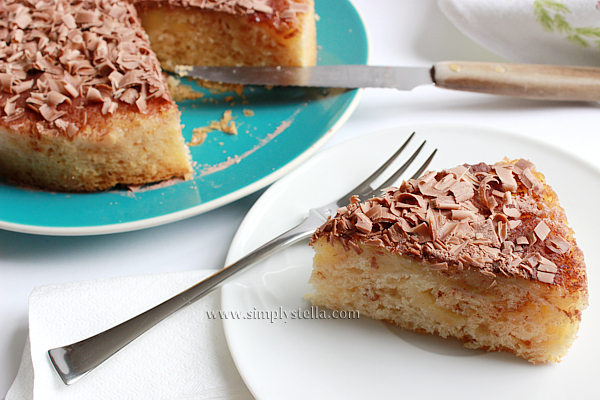 Scroll to the bottom of the page for the translated recipe.

Ingredienti
per 8 porzioni:
Per la pastella:
- 80gr farina 00
- 70gr fecola di patate
- 16gr lievito per dolci
- 80gr zucchero di canna
- 6gr Stevia in polvere Misura
(oppure altri 60gr di zucchero di canna)
- 1 pizzico di sale
- 10gr olio evo
- 40gr latte scremato
- 70gr bicchiere di acqua
- ½ cucchiaino di aroma alla vaniglia
- 1 cucchiaino di succo di limone
Per lo strato di mele:
- 1 mela (ca. 200gr)
- 30gr zucchero di canna
- ¼ cucchiaino di cannella in polvere
- Succo di limone q.b.
Per la decorazione:
- 25gr cioccolato fondente o al latte

Calorie per porzione:
ca. 165

Grassi:
ca. 3,6%

Preparazione:
Unire in una ciotola tutti gli
ingredienti secchi
.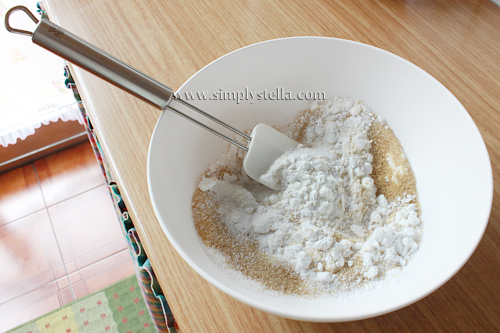 Aggiungere l'
olio
, il
latte
, e l'
acqua
, poca alla volta, mescolando con una frusta fino ad ottenere un composto liscio e omogeneo.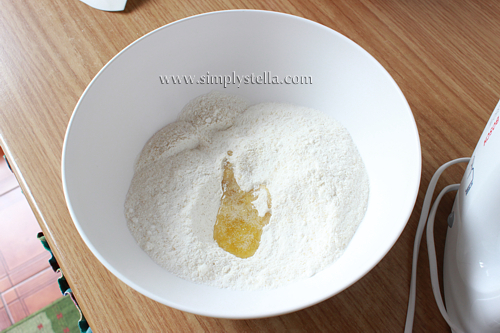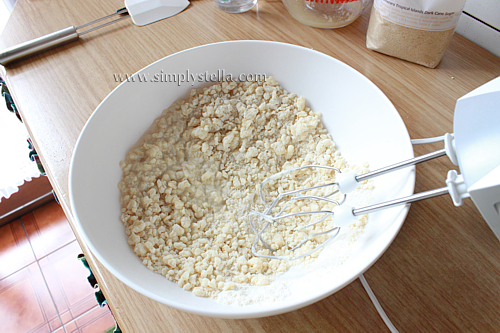 Unire il
succo di limone
e dare una bella mescolata.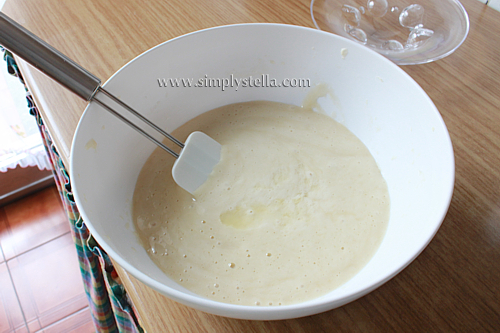 Lavare e sbucciare la
mela
, poi tagliarla a fettine da distribuire sul fondo di una teglia per torte rotonda (diametro 18-22cm), precedentemente
imburrata
e cosparsa di
zucchero di canna
. Cospargere lo strato di mele con poco
succo di limone
, il restante
zucchero
e la
cannella
.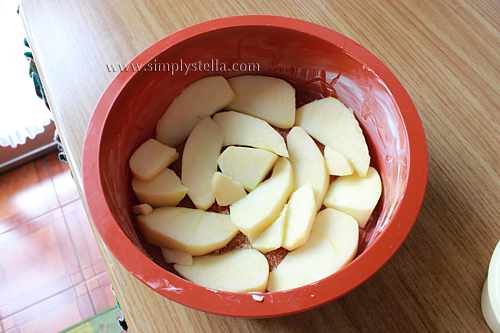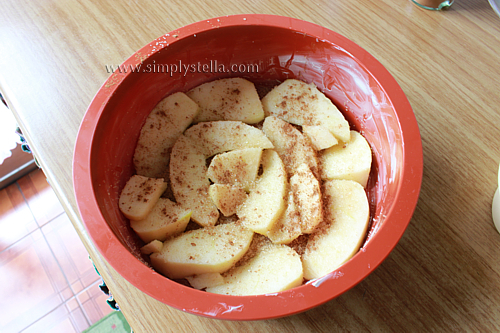 Versare infine la pastella sopra lo strato di mele ed infornare a
180° per circa 30 minuti
.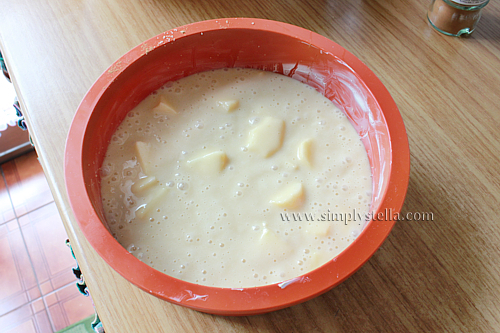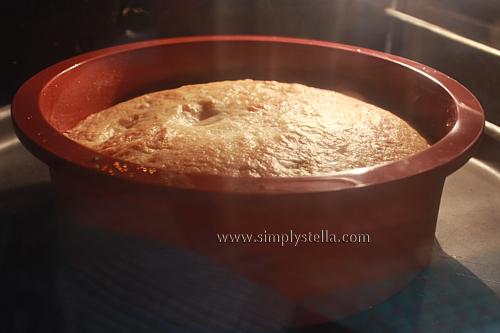 Lasciare raffreddare la torta completamente prima di estrarla dallo stampo, poi decorarla con
cioccolato a scagliette
.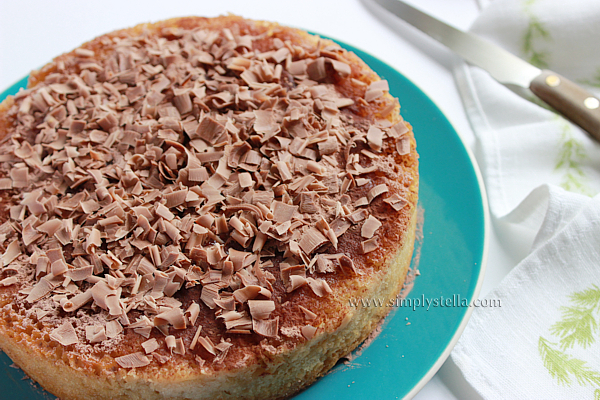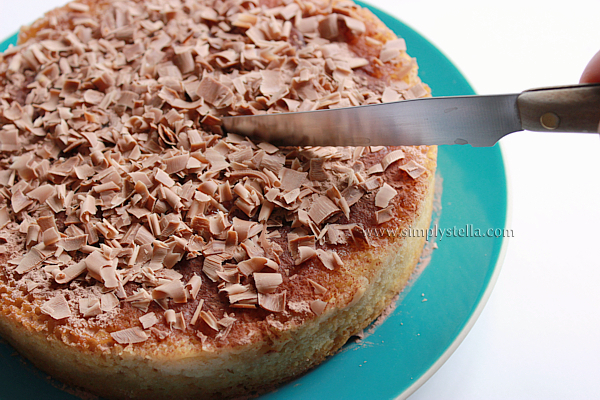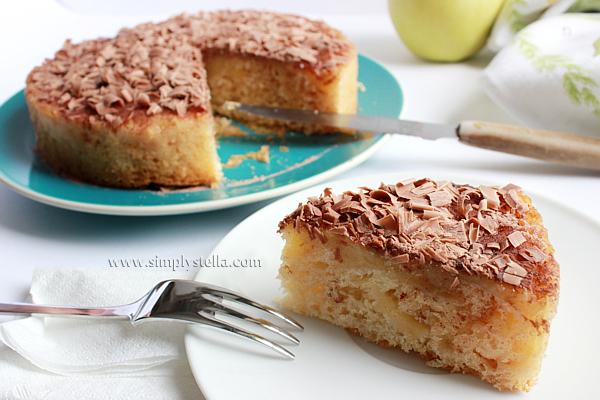 Ingredients (8 servings): Batter: 80gr all-purpose flour, 70gr potato starch, 16gr baking powder, 80gr brown sugar, 6gr Stevia powder (can sub with 60gr of brown sugar), 1 pinch of salt, 10gr olive oil, 40gr skim milk, 70gr water, ½ tsp vanilla essence, 1 tsp lemon juice. Apple layer: 1 medium sized apple (approx. 200gr), 30gr brown sugar, ¼ tsp ground cinnamon, lemon juice to taste. Topping: 25gr chocolate, shredded. Calories per serving: 165 / Fats: approx. 3,6%
Directions:Sift together all the dry ingredients. Add the oil, milk and water, stirring well. Lastly, add a teaspoon of lemon juice and mix well. Grease a cake pan and dust it with sugar. Peel and slice the apple, then lay the slices into the pan. Top with a little bit of lemon juice, sugar and cinnamon. Pour the batter over the apple layer and bake at 180°C(350F) for approx. 30 minutes. Once the cake has completely cooled off, extract it from the pan and top it with shredded chocolate. For a more detailed translation, use the Translator in the side bar