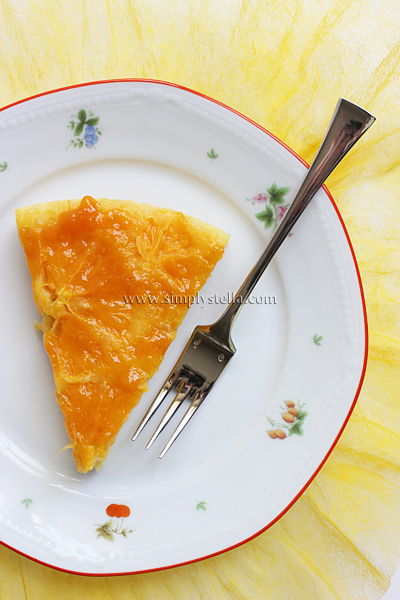 Questa torta dall'aspetto semplice in realtà è così buona -
è piaciuta perfino alla mia mamma, che in fatto di dolci è piuttosto sofistica

- che l'ho gia rifatta due volte!
Mi sono ispirata a
questa ricetta
, ma l'ho
sanificata
e
dietificata
: via le uova, ridotto drasticamente il burro.. ciononostante è venuta morbidissima! Lo sciroppo d'arancia poi è davvero ottimo, l'avrei mangiato così, col cucchiaio..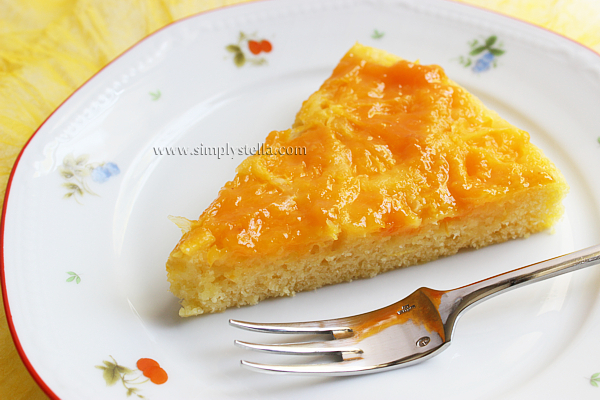 Fotoricetta dopo il salto!

Eggless, low fat and low-cal orange cake.

Photo-recipe after the jump!
Scroll to the bottom of the page for the translated recipe.

Ingredienti
per 8 porzioni:
- 2 arance, circa 350gr
- 20gr di burro morbido
- 65gr zucchero di canna
- 4gr Stevia in polvere Misura
(oppure altri 40gr di zucchero di canna)
- 125gr di yogurt bianco magro
- 90gr di farina 00
- 80gr di fecola
- 16gr di lievito in polvere per dolci
- 1 fialetta aroma di mandorla (facoltativo)
- Succo di 1 arancia, circa 110gr
Per lo sciroppo:
- Succo di 2 arance, circa 200gr
- 30gr zucchero semolato

Calorie:
ca. 175 a porzione

Grassi:
ca. 1,7%

Preparazione:
Tagliare
due arance
in
fettine
di circa
½ centimetro
,
sbucciarle
ed infine adagiarle in uno stampo rotondo (diametro 24cm) precedentemente
imburrato
.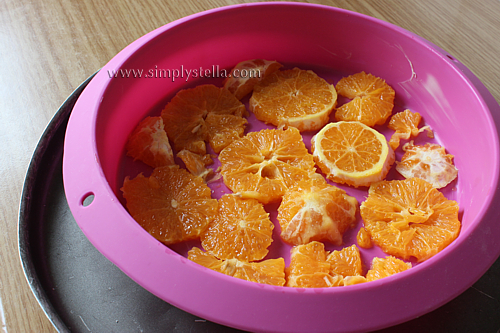 Lavorare il
burro
con lo
zucchero
e la
Stevia
, aggiungendo mano a mano parte dello
yogurt
, fino ad ottenere un composto fluido.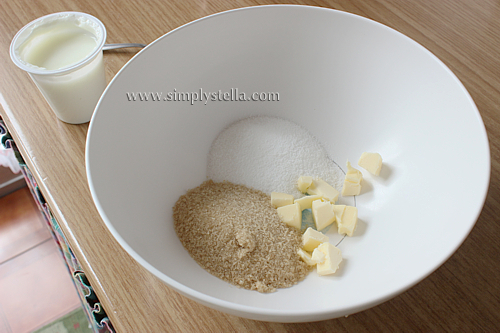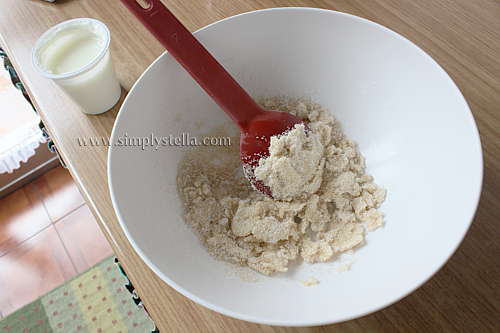 Aggiungere la
farina
e la
fecola
, alternandole allo
yogurt
rimanente e al
succo d'arancia
, quanto basta per ottenere una pastella omogenea e cremosa. Unire infine l'
aroma di mandorle
e il
lievito
.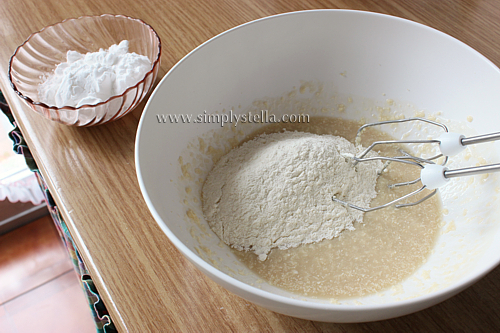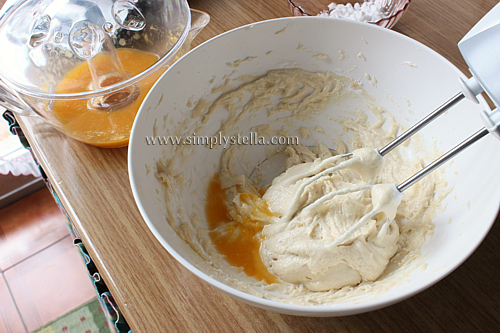 Versare l'impasto sullo strato di arance, livellarlo ed infornare a
150/180°
per circa
mezzora
(fare la prova stecchino).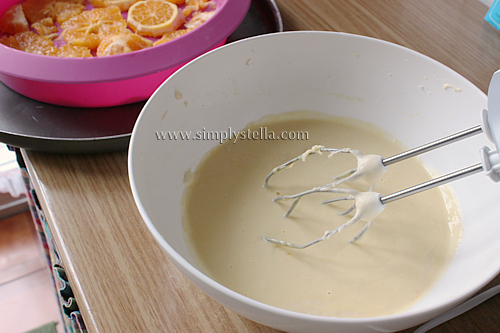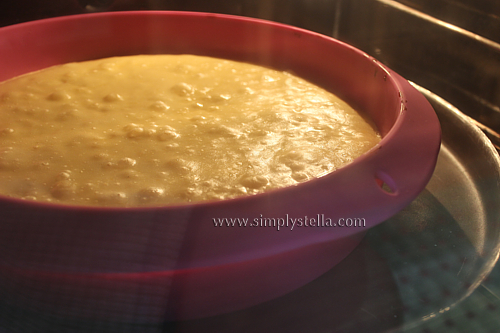 Mescolare il
succo di due arance
con lo
zucchero
e scaldarlo su fuoco vivace, mescolando continuamente, per circa
20 minuti
, fino ad ottenere uno sciroppo piuttosto denso.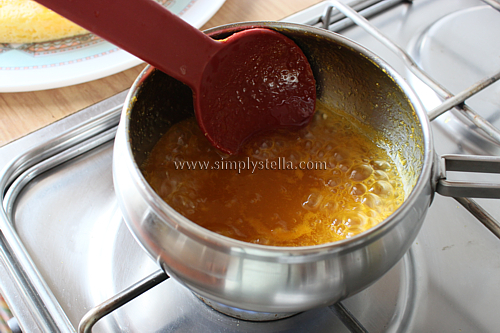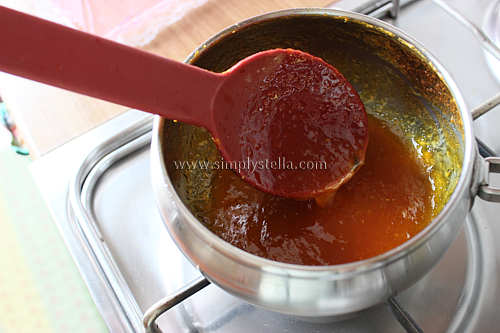 Fare raffreddare completamente la torta, poi capovolgerla sul piatto di portata e ricoprirla con lo sciroppo di arancia.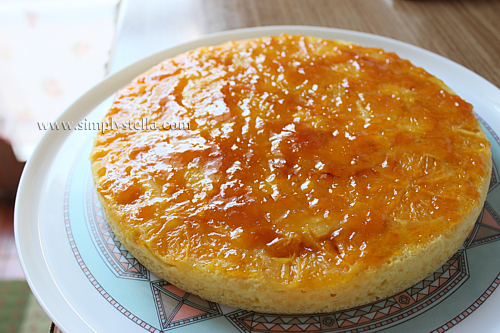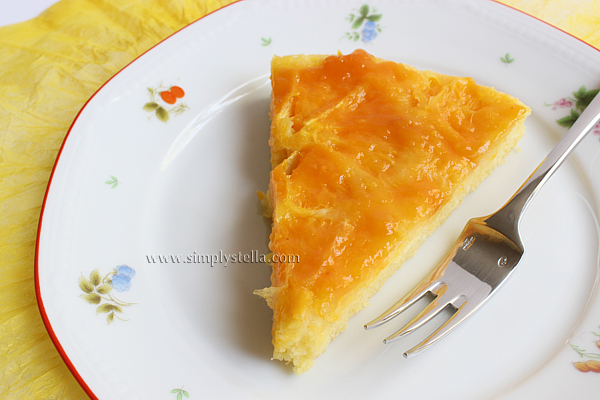 Ingredients (8 servings): 2 oranges (approx. 350gr), 20gr butter, 65gr brown sugar, 4gr Stevia powder (can sub with 40gr of regular sugar), 125gr plain nonfat yogurt, 90gr all-purpose flour, 80gr potato starch, 16gr baking powder, 1tsp almond extract (optional), 1 squeezed orange (approx. 110gr). For the orange glaze: 2 squeezed oranges (approx. 200gr), 30gr sugar.
Calories (per serving): 175 / Fats: approx. 1,7%
Directions: Peel and slice the oranges, then lay them inside a greased cake mold (mine was 24cm wide). Beat butter with sugar and Stevia. Add yogurt and stir well, until you get a thin mixture. Add flour, potato starch, baking powder and orange juice, mixing to get a creamy, even batter. Pour the batter into your cake mold and bake at 180°C (350F) for approx. half an hour, until dry. While the cake is cooling, prepare the glaze by bringing to boil the orange juice with the sugar, stirring frequently until it gets thick. Spread the glaze on the cake. For a more detailed translation, use the Translator in the side bar