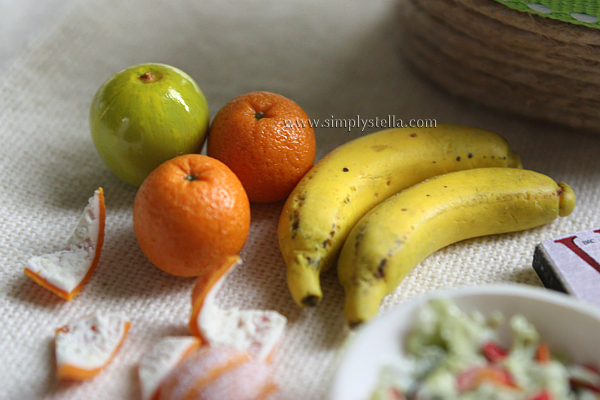 Quali sono le caratteristiche principali per un picnic perfetto? Per quanto mi riguarda sono tre: buon cibo, buona compagnia e bel panorama!
E' con questi tre punti in mente che mi sono data alla creazione di questo picnic.. in miniatura

Immaginate un parco, di fronte ad un lago pacifico, in primavera; tre amiche che si trovano, tra una chiacchiera e l'altra, a mangiare insieme...

Picnic set - Handmade in a 1:6 scale. Use the Translator in the side bar to read this site in your language! :)

Una di loro è una davvero golosa: per lei ho" preparato" un paio di sandwich con burro d'arachidi e marmellata e uan bella scatola biscotti con goccie di cioccolato per lei; poi c'è quella che è sempre a dieta, e per lei non c'è nulla di meglio di qualche frutto e un po' di insalata. Infine, per quella ragazza fortunata che mangia qualsiasi schifezza e non prende un chilo (ce n'è una in ogni gruppo di amiche..

) il junk-food per eccellenza: un hamburger bello imbottito e patatine fritte!
Dettagli tecnici:
tutto è fatto a mano in una scala 1:6.
Il cibo è stato realizzato con paste polimeriche, gessetti e colori acrilici; il cesto è stato fatto con dello spago mentre per le riviste ho usato un po' di foto delle mie Barbie, composto gli articoli e le copertine, e infine li ho stampati e rilegati.

Cliccare sulle immagini per ingrandirle / Click on the pictures to see them full size

Altre foto qui