Un'altra ricetta originale della mia mamma!

Nata quasi per caso, più precisamente dalla necessità di utilizzare un po' di ingredienti vicini alla data di scadenza .. è venuta così buona da diventare una dei nostri piatti "della domenica" preferiti!

L'impasto di base è lo stesso di quello della Pizza Ricca, e anche per la farcitura si usano pressapoco gli stessi ingredienti: scamorza e carciofini sott'olio. La variante? Al posto dei pomodori, si usa il tonno in scatola. Davvero squisita!

Come tutto ciò che esce dalla
nostra cucina è piuttosto calorica, va detto però che basta una fetta per sentirsi sazi fino al giorno dopo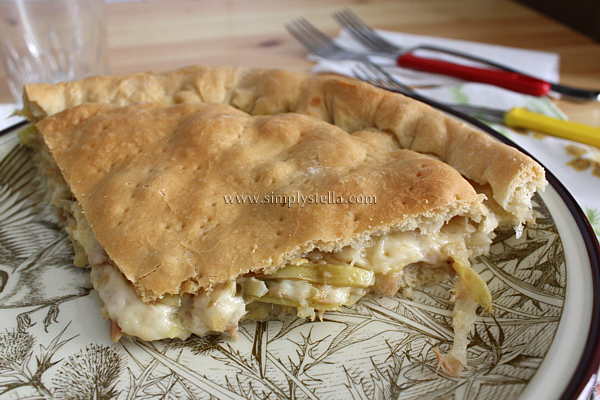 Fotoricetta dopo il salto!

Tuna pie.

Photo-recipe after the jump!
Scroll to the bottom of the page for the translated recipe.

Ingredienti
per 4 porzioni:
- 25 gr lievito di birra
- 125 ml di acqua
- 260 gr farina 0
- 1 cucchiaino raso di sale
- 2 cucchiai di olio
Per la farcitura:
- 120gr (78gr sgocciolato) tonno
- 250 gr scamorza
- 130 gr carciofini sott'olio sgocciolati

Calorie:
ca. 525

Preparazione:
Tagliare la
scamorza
a dadini e i
carciofini
a fettine, poi unirli in una ciotola con il
tonno
sgocciolato e sminuzzato grossolanamente con una forchetta.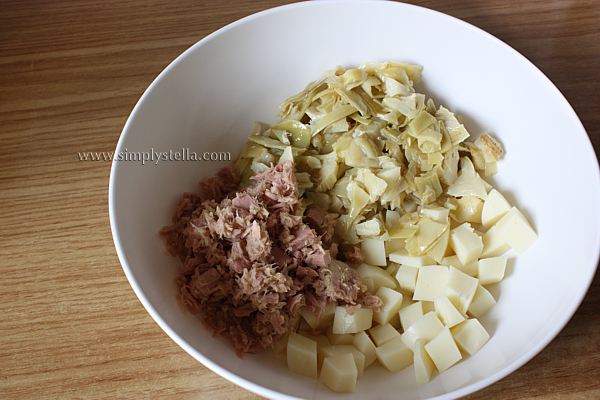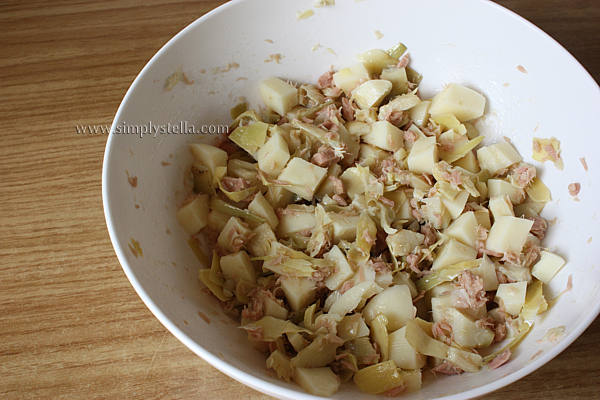 Preparare l'
impasto
come per la Pizza Ricca. Dopo averlo lavorato brevemente a mano, dividerlo in
due pezzi
, uno più grande a uno più piccolo (circa 2/3 e 1/3).
Stendere
il pezzo più grande in un disco alto circa mezzo centimetro.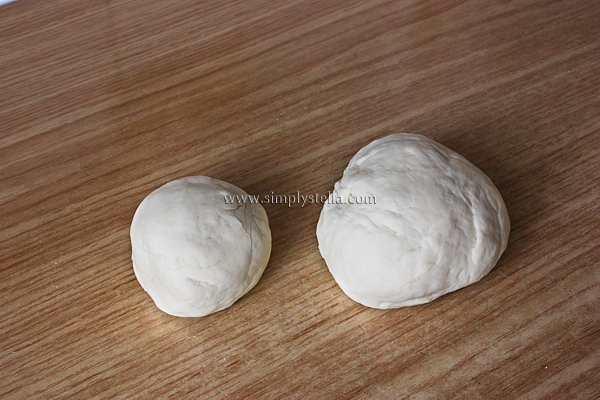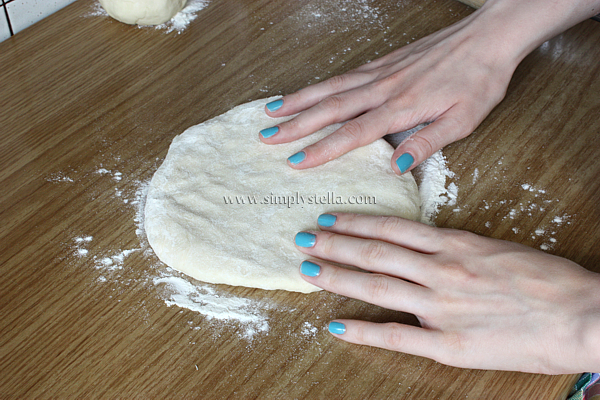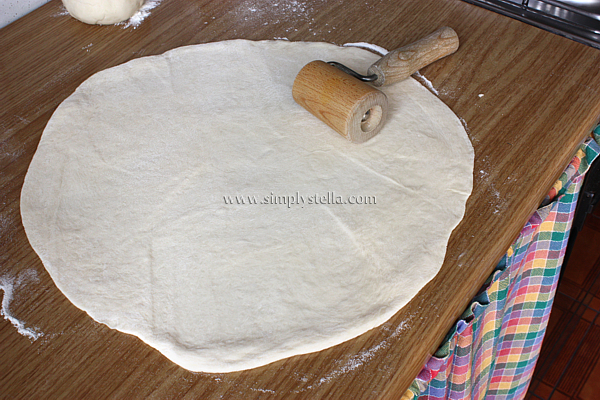 Ripiegare i lati del disco verso l'interno e trasferirlo nella teglia (precedentemente unta con poco olio), facendo attenzione a centrarlo bene.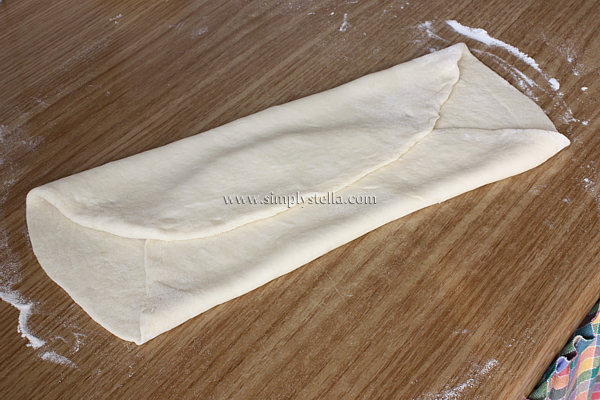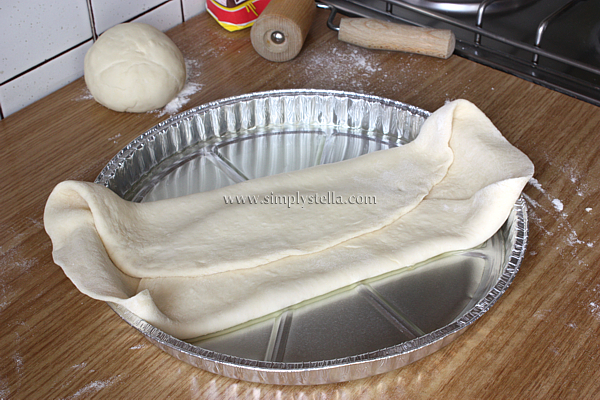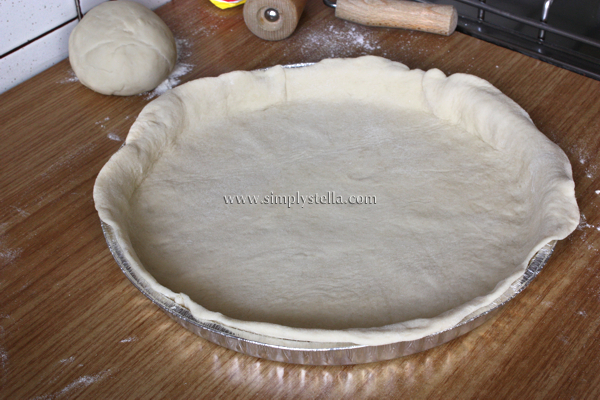 Ricoprire con la
farcia di tonno, scamorza e carciofini,
lasciando un margine di circa mezzo centimetro ai bordi.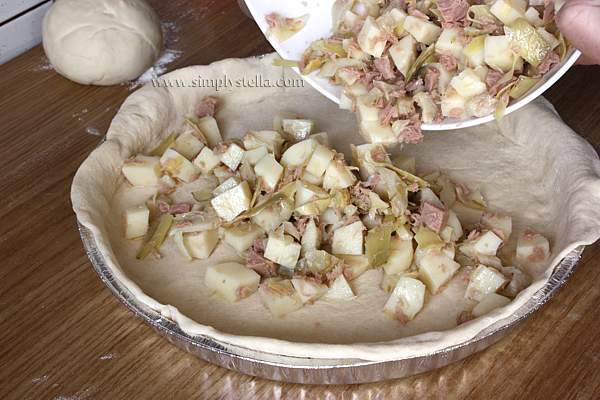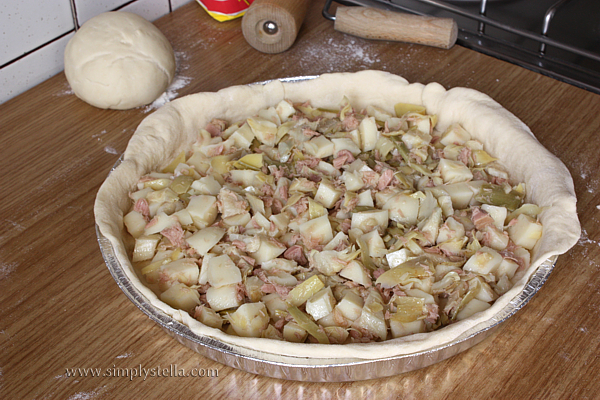 Stendere l'
altro pezzo
di impasto in un disco della stessa altezza del primo, piegare i lati verso il centro e sistemarlo nella teglia.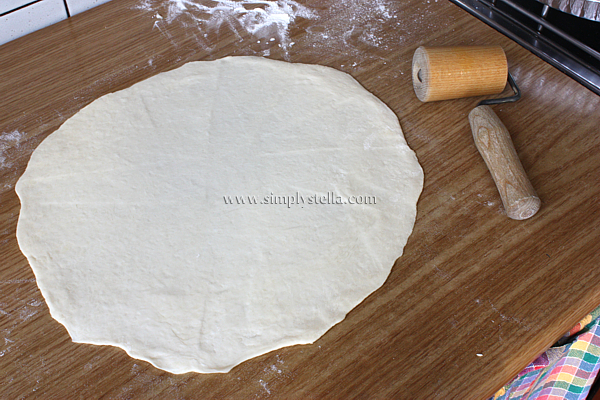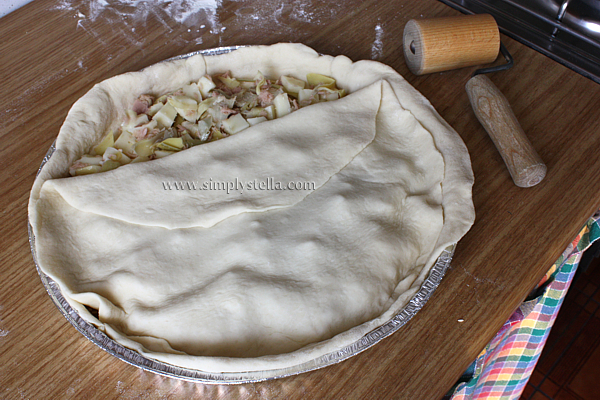 Schiacciare
il bordo del disco superiore sul fondo, poi richiudere la torta rivoltando i bordi del disco inferiore, premendo bene per evitare che la farcitura esca durante la cottura.
Bucherellare
tutta la superfice della torta con una forchetta, dopodichè lasciare
lievitare
nel forno spento per
mezz'ora
.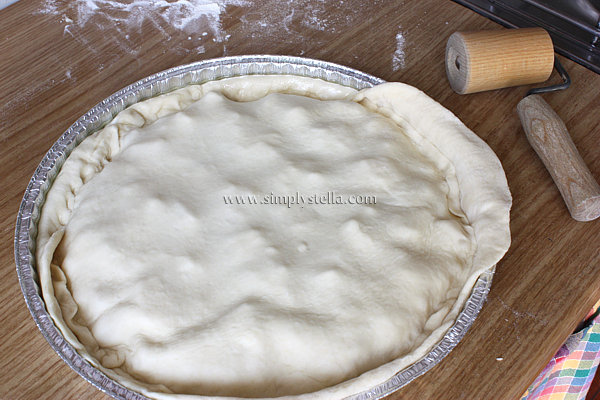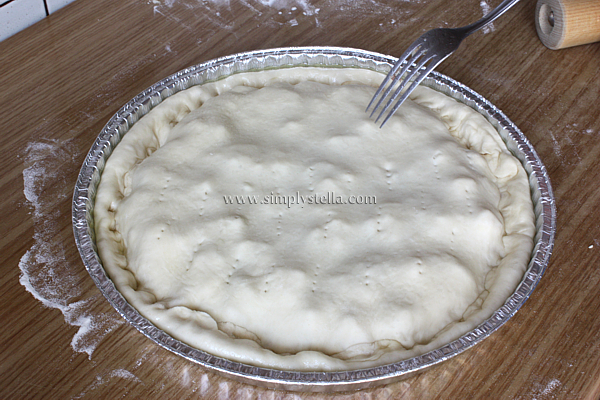 Passato questo tempo, infornare a
150° per circa
45 minuti,
fino a quando la superficie della torta è bella dorata.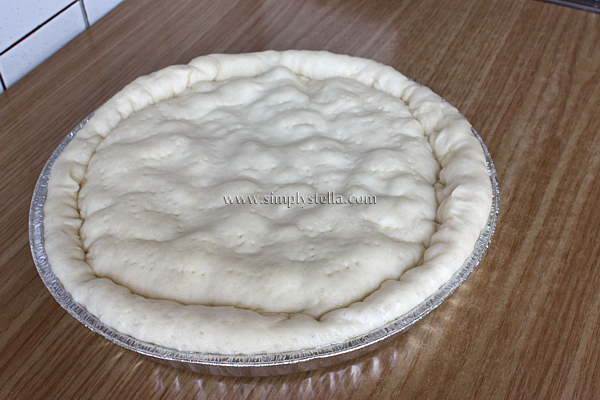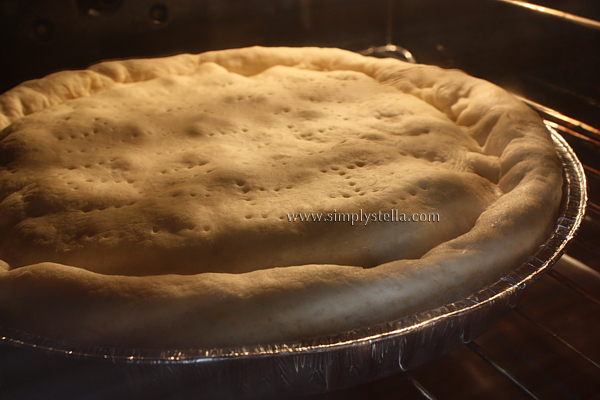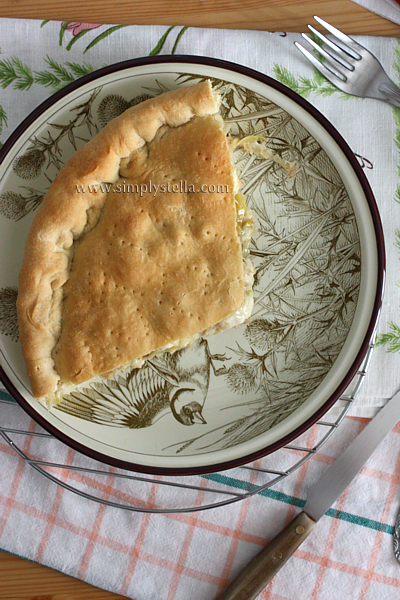 Ingredients (4 servings): 1 cake of yeast, 125 ml water, 260 gr flour, 1 teaspoon salt, 2 tablespoon olive oil; For the Filling: 120gr (78gr drained) tuna, 250 gr scamorza, 130 gr artichokes in oil (drained). Calories per serving: 525
Directions: Cut the cheese into dices, slice the artichokes and roughly shred the tuna with a fork, then mix together. Prepare the dough following the same directions for the Pizza dough. Knead briefly then divide the dough in two parts - one slightly bigger than the other (about 2/3 and 1/3). Roll out the bigger piece into a disk, approx. 0.5cm thick. Fold inwards the sides of the disk and move it into your (previously greased) baking tin. Top with the tuna, cheese and artichokes salad. Roll out the other piece of dough, and move it into the baking tin. Press the borders of the upper disk against the bottom of the tin, then fold the borders of the bottom disk and press to secure your pie. Make holes all over the surface of the pie with a fork. Let rise for half an hour. Bake at 150°C (approx. 300 F) for 45 minutes. For a more detailed translation, use the Translator in the side bar