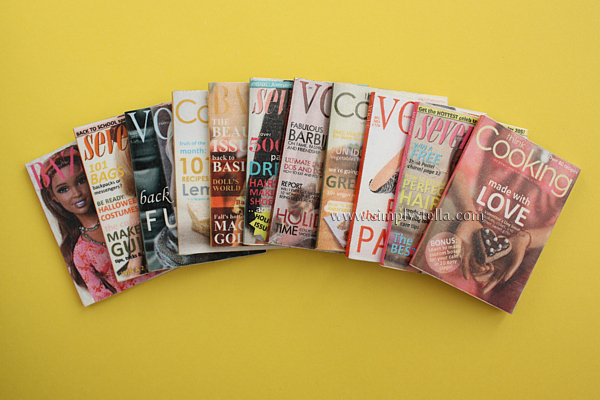 Cliccare sulle immagini per ingrandirle / Click on the pictures to see them full size
Nasce
Think Publishing
, la prima casa editrice virtuale specializzata in pubblicazioni formato Barbie

Per tradizione, alle inaugurazioni si fanno degli omaggi o si offre un buffet gratuito; spedire tartine via posta mi sembrava un po' scomodo, quindi vada per
i regali
!
Dodici riviste
in scala 1:6, con interno completamente sfogliabile e adatte a tutti i gusti: dalla rivista di cucina (
Think Cooking
) a quella di haute couture (
Vogue Pastel
) moda e attualità (
Pastel's Bazaar
) e per le bambole più giovani,
Seventeen
(Seven
think
m'è venuta in mente troppo tardi..)

Tutte le copertine, le fotografie, gli articoli e le inserzioni pubblicitarie sono
design unici ed originali
creati da me.

Think Publishing is the first publishing house specialized in doll-sized books and magazines!


To celebrate the opening, I've created 12 different magazines, designed to fit every doll's tastes: Think Cooking , Vogue Pastel, Pastel's Bazaar and Seventeen (I had the idea of naming it 'Seventhink' just a little too late!). Covers, articles and ads are all 100% original and were designed by yours truly!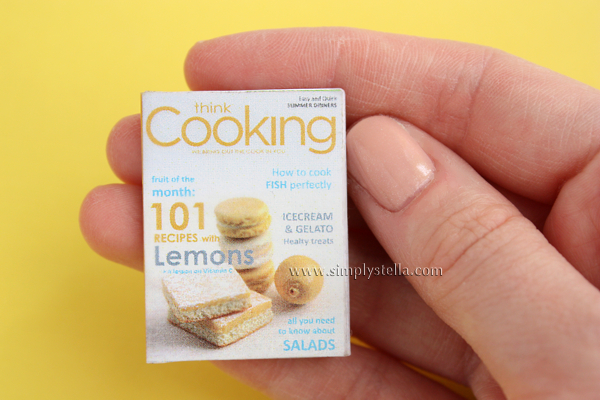 E' possibile scaricare gratuitamente la prima rivista, il numero 1 di Think Cooking, cliccando qui
. Basta stampare il file e seguire le istruzioni che trovate dopo il salto!


Click here to download the first free printable - the #1 issue of Think Cooking. Instructions to assemble the magazine are found after the jump.

Tutte le riviste / Issues
:
Think Cooking
#1
/
#2
/
#3
Vogue Pastel
#1
/
#2
/
#3
Pastel's Bazaar
#1
/
#2
/
#3
Seventeen
#1
/
#2
/
#3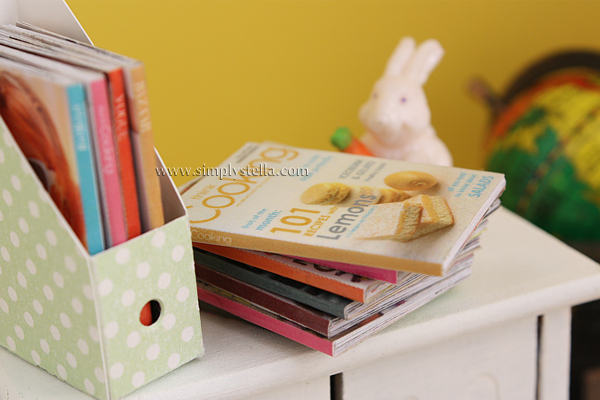 Vi piacerebbe avere una mini-rivista completamente personalizzata, con le foto dei vostri amici/bambini/gatti/lavorialluncinetto?

Potete
commissionarne una
! Per informazioni su costi e tempi di lavorazione,
scrivetemi qui
.

It is possible to commission custom magazines. For more infos, write me!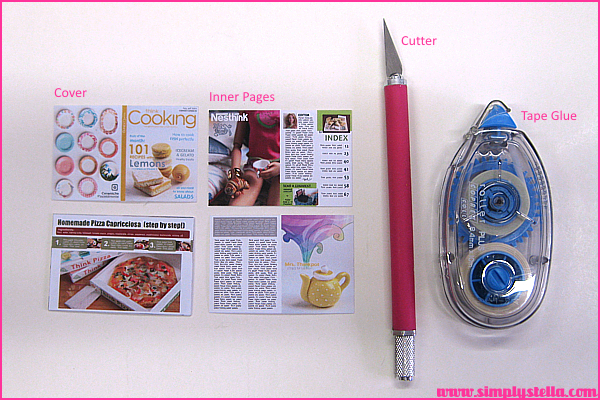 Stampate il file con copertina e pagine della rivista e tagliatele con un taglierino di precisione. Tutte le pagine devono essere tagliate a "coppie" (vedi foto!)

Print the cover and inner pages of your magazine, then cut them with an X-Acto knife (or another precision cutter). Make sure you cut all of the inner pages as 'couples', as shown in the picture above.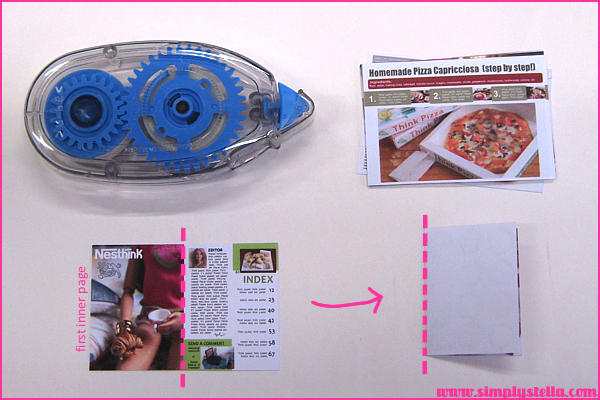 Prendete la prima pagina interna del giornale e piegatela a metà.

Fold the first inner page in half.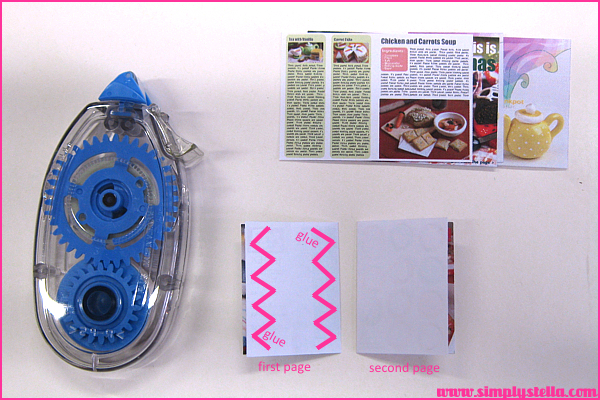 Piegate in due anche la seconda pagina interna. Affiancate le due pagine piegate, poi passate la colla sul retro della prima. Fate attenzione: la colla va messa solo su metà pagina, come nella foto.

Fold in half the second inner page. Place the two pages side by side, then put glue on the back of the first page. The glue has to be only on one half of the double page, as shown in the picture.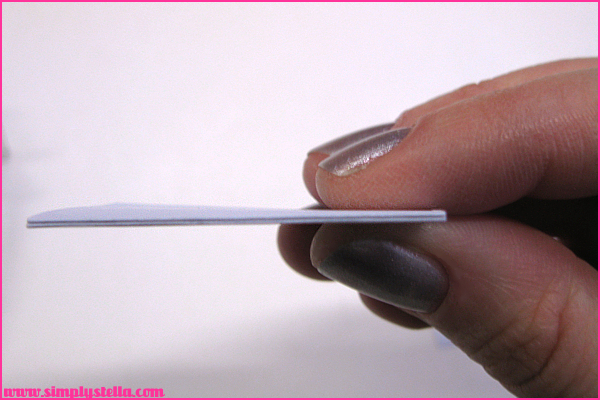 Facendo attenzione a far combaciare bene i lati, incollate la seconda pagina sulla prima.

Stick the second page on the first, making sure that the ends meet.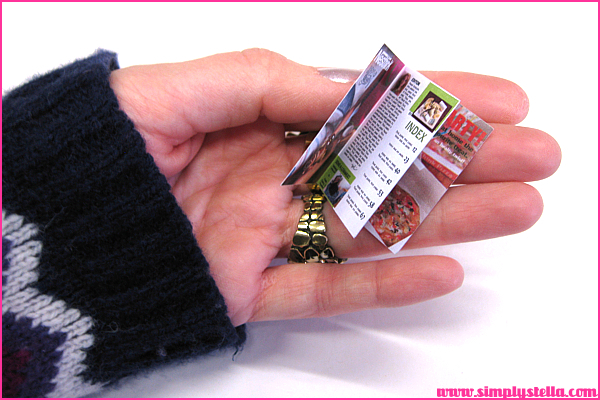 Proseguite nello stesso modo, piegando ed incollando le altre 4 pagine interne: la vostra mini-rivista sta cominciando a prendere forma... :)

Proceed in the same way, folding and gluing together the remaining 4 pages. Your mini-magazine is beginning to look like one, isn't it? :)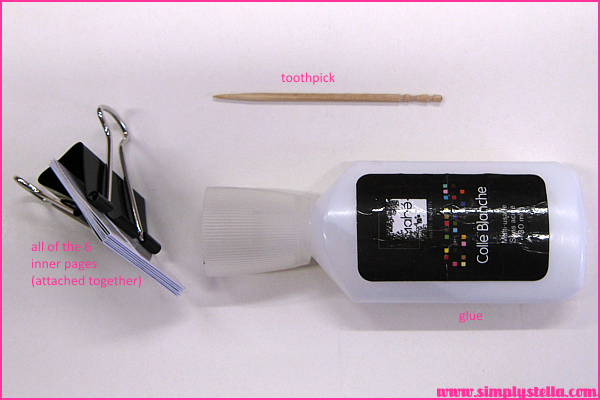 Le pagine sono gia incollate, ma perchè la rilegatura sia davvero resistente è necessario un'ultimo passaggio. Servono due piccole pinze fermacarte, uno stuzzicadenti e della colla vinilica.

The pages are already glued together, but there's one more step to make a really strong binding. You will need two paper clips, a toothpick and PVA glue.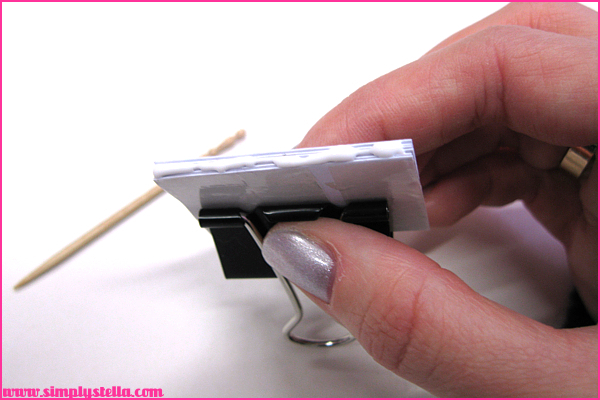 Fissate il lato esterno delle pagine con una pinza. Con l'aiuto di uno stuzzicadenti, spalmate la colla sul lato interno delle pagine, cercando di rendere lo strato di colla il più uniforme possibile.

Fix the outer side of the pages with one of the paper clips. Using a toothpick, spread the glue evenly on the inner side.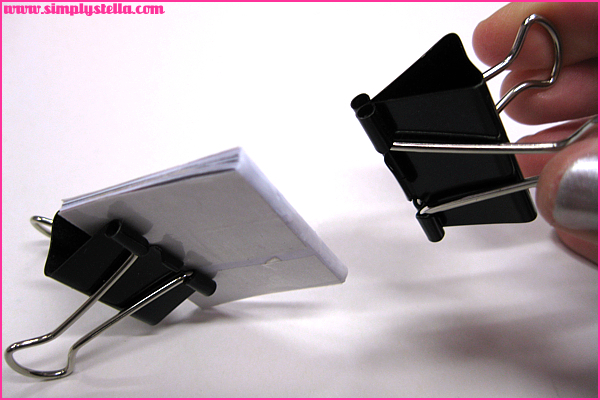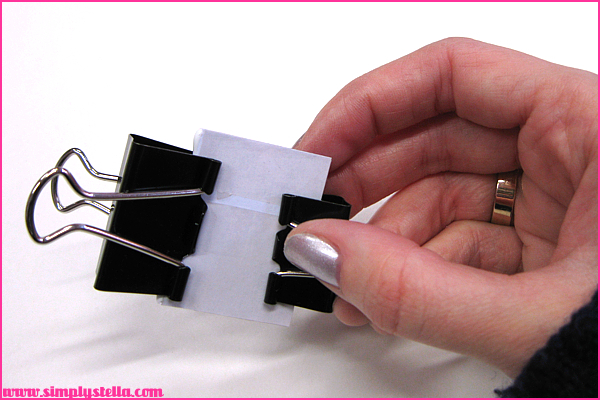 Fissate il lato interno con l'altra pinza, mettendola piuttosto vicina al bordo.

Fix the inner side with the other clip, placing it close to the edge.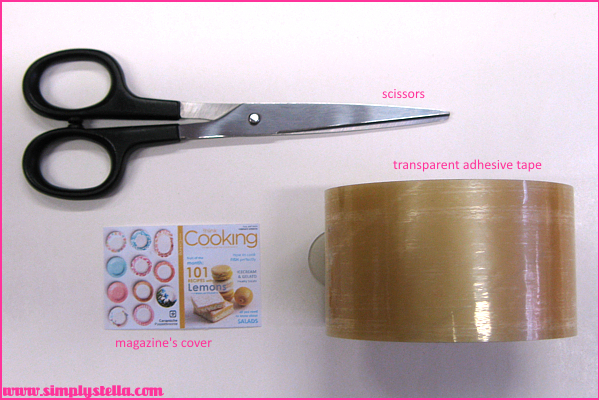 Mentre aspettate che la colla si asciughi, cominciate a preparare la copertina. Le copertine delle riviste sono solitamente patinate. L'ideale sarebbe stampare le copertine su carta fotografica; se non l'avete, non preoccupatevi: esiste una soluzione facile ed economica che si chiama.. scotch! Sciegliete un rotolo di quelli grandi, deve misurare almeno 4 cm di larghezza.

While you're waiting for the glue to dry, you can prepare the cover. Magazine's covers are usually glossy, so it would be ideal to print them on glossy paper. If you don't have any, don't sweat it: there's an easy and affordable solution for this, and it's called duct tape!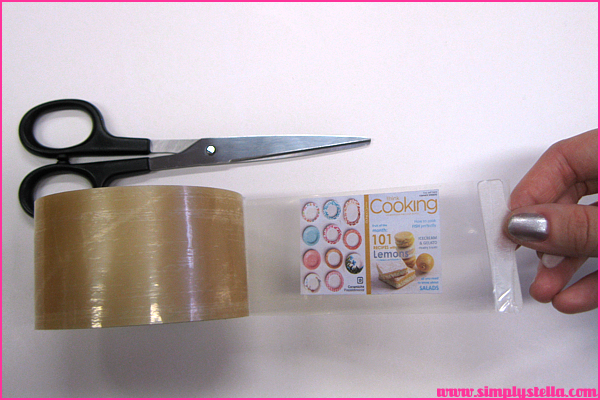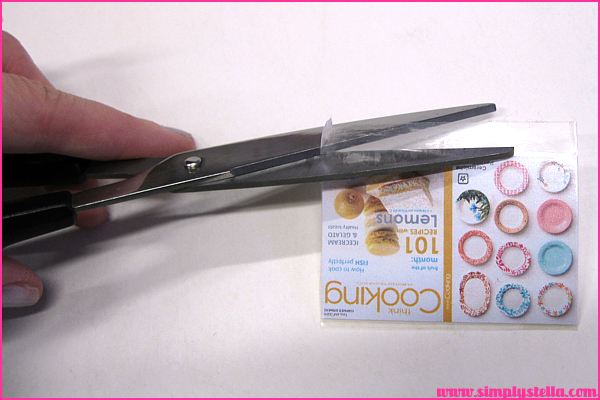 Tirate bene il nastro adesivo, e mentre è teso, attaccateci la copertina della rivista. Dopodichè, tagliate o ripiegate le parti di nastro in eccesso.

Lay the duct tape on the magazine cover and press, then cut away or fold the excess of duct tape.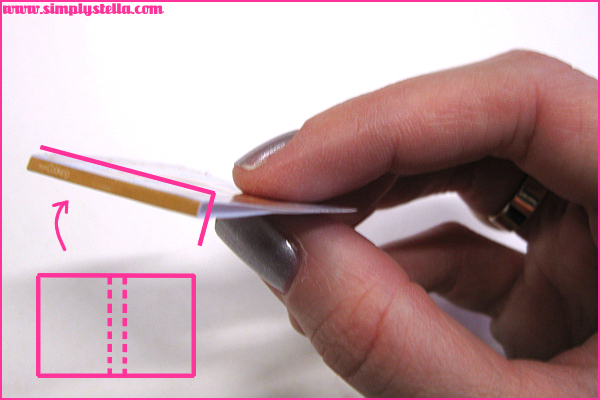 Piegate il dorso della copertina. Per una piegatura pulita, usate il vostro taglierino e incidete due righe leggere in corrispondenza del dorso.

Fold the spine of the cover. You can use your X-Acto knife to score the lines.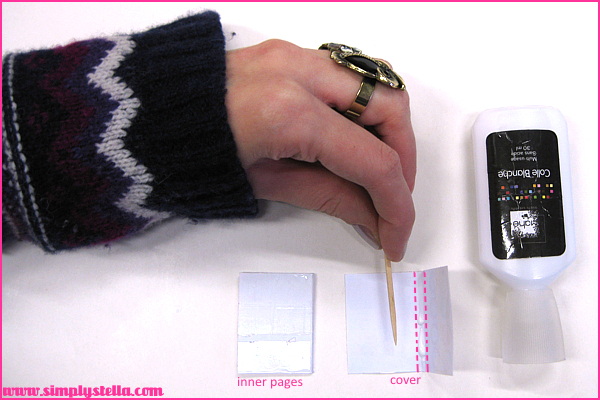 Quando la colla sulle pagine interne è ben asciutta, incollatele alla copertina. Passate il vinavil nella parte interna del dorso, poi appoggiateci sopra le pagine interne e premete delicatamente.

When the glue on your magazine's inner pages has dried, it's time to glue them to the cover. Spread some glue on the spine, then place the inner pages and press gently.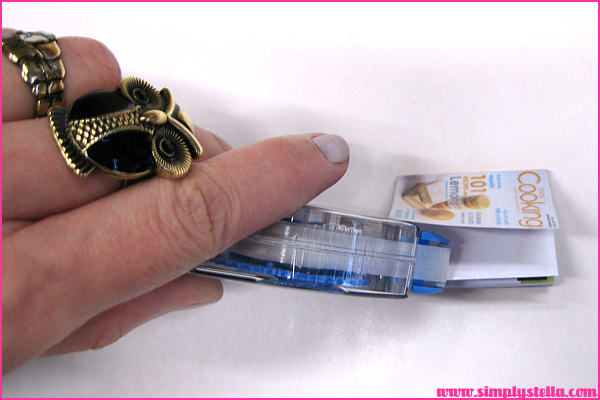 Incollate la copertina alla prima e ultima pagina con la colla roller.

Glue the cover to the first and last page with tape glue.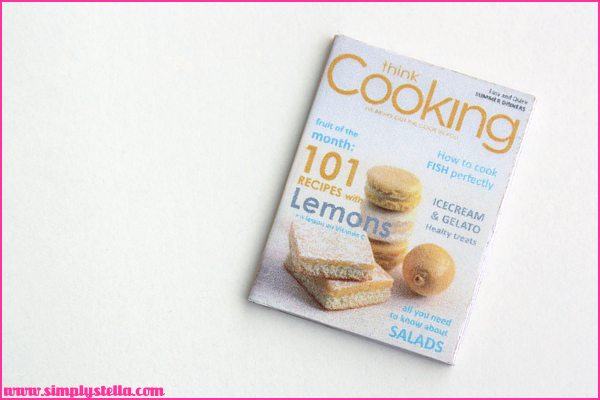 La mini-rivista è pronta per essere sfogliata!


That's it! Your mini-magazine is ready

Credits: Il metodo di rilegatura è parzialmente basato su questo tutorial / Binding technique is loosely based on this tutorial